The songs in the CCLI catalog are meant to be vehicles for the congregation, with worship leaders often being the first to introduce them. Jason Upton shares the heart behind one such song: "I Built My House Upon A Stone."
Ask Jason Upton which song from his impressive body of work never seems to fail to have an impact, and he is quick to cite "I Built My House Upon A Stone".
My story's crazy but it's true… It started out confusing too and just gets stranger by the day.
"It gets a response every single time," Upton says. "The melody is easy to sing along with, but the attraction of the song is I think the message I just quoted. Something happens in the room when this is sung."
Where did these words even come from? "This song came to be after I read the story of the blind man, Bartimeus. During a gathering, I was asked to put myself in the position of the blind man. To imagine standing by the side of the road and answering the question Jesus asked me: 'what do you want me to do for you?'"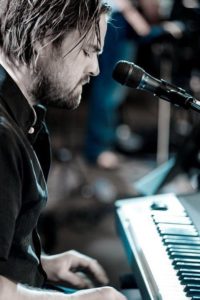 Jason muses, "I thought I could answer it easily. But it turned out to be not so simple. Instead, I asked Jesus a question in return: 'Why did You ask him that? Why would You ask a man, who is born blind, what You can do for him?'"
Then Jason let the question simmer. "I wrote this down in my diary and spent the day contemplating. The next morning, I woke at 3 AM, and it came to me like a whisper: '…because I don't just want to heal humanity. I want to know her.'"
"So many questions are asked in order to avoid a real relationship with God. We're looking for a quick solution to a problem. But actually knowing God? Jesus' questions revealed a desire for a relationship; a desire to bring you to the Father and make your life whole. It's as if He keeps repeating the question: 'do you know what you want? What you really need?'"
Jason continues, "That's why I follow Jesus. He's not interested in conquest. He is not an emperor, but the Lamb of God. He doesn't assign me a number. He really knows my name."
For I've been the blind man by the road, I've been the boy running back home, I've been the sinner and I've been the saint and the love of God has never changed…
Jason decided to let the 3 AM experience sink in during his morning run. And with the rhythm of his steps came the song. "Actually, the song's rhythm is my walking rhythm" he reveals. "I wrote the entire song during that run. I finished with my arms held high in the air, moved by the words."
"I Built My House Upon A Stone" may have sprung from a question asked many centuries ago. But in crafting an answer through song it became a testimony for thousands.
---
This song was released on Jason Upton's albums Glimpse and Sunday Morning, Live in Winston Salem. Jason was speaking with Leon van Steensel of CCLI's office in The Netherlands.
Song lyrics, lead sheets and chord sheets for many songs by Jason Upton are available in SongSelect by CCLI.