If you watched the Grammys last month you may have heard Neil Portnow, president and CEO of the Recording Academy, pose a question that had all the earmarks of a dire prediction:
What if we're all watching the Grammys a few years from now and there's no Best New Artist award because there aren't enough talented artists and songwriters who are actually able to make a living from their craft?
His timing was deliberate. A few days before the show aired, the US Copyright Office had released the result of their yearlong study on the state of US copyright law—the 246-page Music and the Copyright Marketplace.
Their findings? US copyright is an out-of-date system that has not kept up with technological advances, and whose built-in inequities disadvantage songwriters and artists in the digital age.
In their words,
There is a widespread perception that our licensing system is broken … From a copyright perspective, we are trying to deliver bits and bytes through a Victrola.
One way to sift through this mess, if it can be called that, is to clearly list the beliefs that drive a desire for change. The report writers did an admirable job of using a "We hold these truths to be self-evident" approach to defining the principles underlying their recommendations:
"Music creators should be fairly compensated for their contributions": a mismatch between the current system (outdated) and current technologies (lightning-fast progress) creates the kind of inequity that causes Taylor Swift to pull her tunes off Spotify because, in her words, "I think there should be an inherent value placed on art. I didn't see that happening, perception-wise, when I put my music on Spotify."
"The licensing process should be more efficient": Copyright law is inherently complex. (The report on this complexity is complex of itself, with 75 terms and abbreviations requiring explanations in the report's glossary.) Still, opportunities abound for new efficiencies.
"Market participants should have access to authoritative data to identify and license sound recordings and musical works": At current, there really is no master database linking the different kinds of rights, rights owners, and permissions, let alone a recognized clearinghouse of that data.
"Usage and payment information should be transparent and accessible to rights owners": As the report states, "Incomplete or inaccurate data frustrates the ability of creators and sellers of music to track how music is used and what payments are made." (Italics added)
After comparing these principles to the current state of US copyright law, the report spills out something like 65 pages of recommendations. Here is WorshipFuel's short list of the Five Things we noted and would like to provide more detail about in the coming months.
Thing #1: Licensing frameworks are likely to change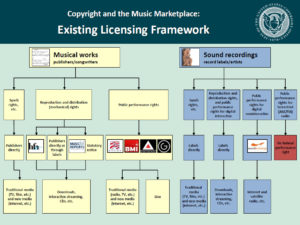 Current Model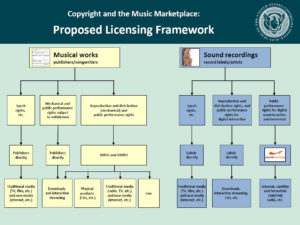 Proposed Model

With separate licensing processes and bodies for two different classes of objects—the "works" created by songwriters and publishers, vs. the "recordings" made by record labels and artists—it's a bit of a wonder we've managed the complexity for as long as we have.
The report proposes a new model (click on the images above to get more detail), and while the "before and after" pictures bear many similarities, a few key differences emerge:
Right now, higher rates are typically paid for the use of sound recordings than for the underlying musical rights—in some cases the ratio is 9:1, which is obviously a lot of money—and the report writers believe these should be more equitable
Permit publishers and songwriters to "opt out" of digital distribution of their mechanical rights …. opt-out of deals for digital channels like Pandora or Spotify, for instance
The $17 billion radio industry should be subject to the same rights and governance as Internet- and satellite-based content providers
Creation of new music rights organizations ("MROs" that cover both mechanical and performance rights) and a general music-rights organization ("GMRO"), allowing both mechanical and public performance rights to be administered in "blanket" terms
Thing #2: Ratesetting frameworks are likely to change
If licensing is complex, the method for setting rates is a labyrinth. As the report states, "While in some cases the law provides that the rate setting authority should attempt to emulate the free market, in other cases it imposes a more policy-oriented approach."
Further, the Office believes that "that all government rate setting processes should be conducted under a single standard, especially since the original justifications for differential treatment of particular uses and business models (Editor: the fear of the "Aeolian player-piano monopoly" from the early 1900s) appear to have fallen away."
Adopt a uniform market-based ratesetting standard for all rates
Migrate all ratesetting to a market-oriented Copyright Royalty Board, instead of the current model where federal courts fix performance rates
As in the Licensing changes above, allow performance rights organizations ("PROs" like ASCAP, BMI and other entities) to become music rights organizations ("MROs") who are authorized to bundle licenses for both performance and mechanical rights
Thing #3: A new body, the GMRO, emerges to provide an anchor
Diagrams like the ones shown above beg for some sort of anchor—whether legislative, financial, or symbolic—to serve as a hub for multiple overlapping activities. In addition to the MROs who will assume much of the responsibility of the current PROs, the Office recommends the creation of the GMRO, or general MROs, that will act as hubs.
The GMRO would be "responsible for maintaining a publicly accessible database of musical works represented by each MRO", addressing some of the need for a system to "access authoritative data to identify and license sound recordings and musical works," as stated in the guiding principles
It's likely too, that the GMRO would serve as the default licensing and collection agent for musical works that slipped "between the cracks," or that licensees were unable to associate with an MRO or opt-out agreement from a publisher
Thing #4: Yes, this is all likely to impact worship in our churches
That being said, it's hard at this time to say how churches might be affected by the laws that change or emerge from this report.
Do you play digital music, whether from a streaming service or an MP3, before or after church services? A license to do this may one day be bundled with a license to copy the lyrics for worship songs in which the congregation joins, like CCLI's Church Copyright License
Will the move to achieve equilibrium between the pay songwriters receive and the rates recordings and record labels are able to negotiate create an environment that births more songs of praise and worship? We hope so.
Will the religious services exemption go away, the law that allows performance of songs during services? Probably not …. but it's a question Worshipfuel will follow closely
Thing #5: Whatever happens, it won't happen fast
At the end of the day, this detailed and perceptive report is guidance rather than action. A lot of things can be repaired in the music industry through this guidance. The question is, will congress act on it?